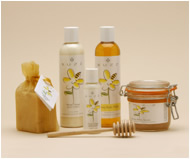 THE HONEY COLLECTION
Honey, "nature's ultimate beauty product", has been used throughout history because of its unique ability to trap and seal moisture into the skin. The result is healthy, soft and supple skin. Honey is also an anti-irritant, especially suitable for sensitive skins.
The Buzz Honey Collection incorporates only the purest, raw honey harvested from Colorado's Rocky Mountains. Rejuvenate your skin the natural way with the Buzz honey line's gentle soaps, scrubs and lotions.